Scroll down for full view of poster photos
Also visit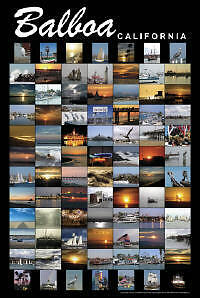 Art From The Balboa Village FUN Zone
and surrounding historical landscapes of Newport Beach CA
CONTACT Tina4Music@Yahoo.Com
$10 Pick Up in Newport Beach
Purchase online with delivery
www.ebay.com/itm/Vintage-Collectible-POSTER-84-Photos-Tales-Of-Balboa-FUN-Zone-Newport-Beach-/150290038132?
$10 Purchase of posters help finance FREE community talent celebration events to raise FUNd$ for "Taste of the Arts" talent show events at the Gazebo stage in Peninsula Park and awareness for the preservation of nostalgic family FUN in The Historic Balboa Village FUN Zone
*!* Collectible *!*
Discontinued Tales Of Balboa Newport Beach Poster
with 84 photo images.
Glossy Print
23 3/4 inches x 35 1/2 inches

Including 84 Favorite Images

Approx 2 inches x 2 inches each that can be cut out

for individual use such as stationary decor, decopage, stickers, gift tags or labels

by

Photojournalist Historian Jim Fornier 2004

Too many to individually list descriptions

but include ...

Auto Ferry

Balboa FUNzone

Balboa Island

Balboa Market

Balboa Village

Bay

Beach

Carouselle

Ferris Wheel

Fishing Boats

Landscapes

Lido Theatre

Overcast Weather

Palm Strees

Pavilion Rainbow

Pier

Sailboat Racing

Sandscapes

Seagulls

Seascapes

Stormy Weather

Sunsets Overwhelming

Surfing

Tallships

U Drive Neon Sign

Wavescapes

Open photo and select zoom option to view larger image of poster

You can also view examples of original collectible photography from archives

some of which are included on the compilation poster

CLICK HERE TO VIEW ARCHIVE PHOTOS AND STORIES
www.talesofbalboa.com/arc2000/search.htm